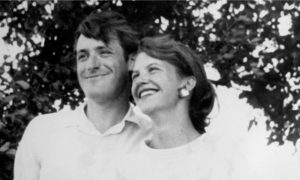 "The only calibration that counts is how much heart people invest, how much they ignore their fears of being hurt or caught out or humiliated. And the only thing people regret is that they didn't live boldly enough, that they didn't invest enough heart, didn't love enough. Nothing else really counts at all."
Ted Hughes
Pieces I have written for academic work including essays and drafts for my PhD thesis on a psychogeographical study of Sylvia Plath and Ted Hughes' Cambridge. Plath and Hughes wrote their history upon Cambridge; my research walk will begin with both writers' Cambridge poetry and loiter along the way in their stories and memories, sketches, archives and places. The doctoral thesis will record this wander to construct the first shared literary, psychological, sociological and biographical geography of Hughes' and Plath's Cambridge.
Academic writing
Sylvia Plath Conference Paper – Plath and Cambridge Sylvia Plath arrived in Cambridge (Slides 1, 2, 3, 4) in October 1955, four years after Ted Hughes had come to Pembroke. Only four months later she met Hughes and there began the relationship of modern poetry.The myth tells that...
Hughes & Plath at Newnham College On arrival in Cambridge, Plath takes up lodgings at Whitstead in Newnham College. Once married, Hughes first and then Plath, move into 55 Eltisley Avenue. They are frequent walkers at nearby Grantchester Meadows. 55 Eltisley Avenue and Grantchester Meadows There is so much...