What's New for Di Beddow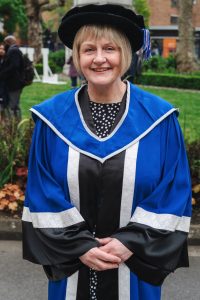 In April 2022 I graduated at Queen Mary University London. Dr Diane Beddow had submitted the thesis entitled 'The Cambridge of Sylvia Plath and Ted Hughes'. I am now preparing papers for the Ted Hughes Conference at Huddersfield in September and the inaugural Sylvia Plath Conference at Hebden Bridge and Heptonstall in October. In Huddersfield I will be presenting on Hughes as Teacher and in Hebden Bridge I am joining Heather Clark and Dave Haslam to speak on 'Plath's Places'.
Dr Beddow
I have successfully defended my thesis on 'The Cambridge of Sylvia Plath and Ted Hughes'. The thesis was supervised by Katie Fleming (primary) and Peter Howarth (second) of Queen Mary University London, and examined by Professor Neil Roberts (Sheffield) and Dr Nisha Ramayya (QMUL). My grateful thanks to all my friends, family and the academics and librarians who were so supportive. Particular thanks should go to my online writing group and peers who helped me to keep going through a global pandemic: Sophie, Abbie, Denise, Breeze, Julie, Cathie, Katie, Michael and Katy.
In June I submitted my thesis 'The Cambridge of Sylvia Plath and Ted Hughes' and await a Viva in the Autumn. I am excited about The Bloomsbury Handbook to Sylvia Plath which is also released this Autumn. My chapter 'Sylvia Plath's Cambridge' forms a useful contribution to an alternative assessment of this part of Plath's career.
Site Guide
Below is a map of my website 
Pieces I have written for academic work including essays and drafts for my PhD thesis on a psychogeographical study of Sylvia Plath and Ted Hughes' Cambridge. Plath and Hughes wrote their history upon Cambridge; my research walk will begin with both writers' Cambridge poetry and loiter along the way in their stories and memories, sketches, archives and places. The doctoral thesis will record this wander to construct the first shared literary, psychological, sociological and biographical geography of Hughes' and Plath's Cambridge.
In 1994 I collaborated with a friend on an article on raising the achievement of GCSE students; this was published in the Times Educational Supplement as, "Return on the right kind of interest" on the 11th February.  Here is the start of my journalistic writing, covering mainly education issues such as boys' mindset; 'A' level research; the development of support staff and the skills of senior leadership.  I became a regular columnist for the TES in the noughties, writing on aspects of middle leadership development.  Recently, my journalistic writing has focused more on political issues in relation to education, feminism and socialism.  I am a contributor to Guardian Comment.
Creative writing pieces that I have written for clients.
Di Beddow offers a full range of consultancy services for journalism, academic writing and the education sector.
Things I am interested in
Potter and Crocker This is my interest in vintage
Scrap Book A scrapbook of selected images